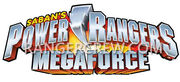 The list of episodes for the 20th Anniversary series,
Power Rangers: Megaforce.
Episode Directory
Edit
Megaforce (2013)Edit
Mega Mission (2/2/2013)
He Blasted Me With Science (2/9/2013)
Going Viral (2/16/2013)
Stranger Ranger (2/23/2013)
United We Stand (3/2/2013)
Harmony and Discord (3/9/2013)
Who's Crying Now? (3/16/2013)
Robo Knight (episode) (3/30/2013)
Prince Takes Knight   (4/6/2013)
Man and Machine (9/7/2013)
Ultra Power (9/14/2013)
Last Laugh (9/28/2013)
Dream Snatcher (10/5/2013)
Gosei Ultimate (episode) (10/12/2013)
The Human Factor (10/19/2013)
Rico the Robot (11/2/2013)
Staying on Track (11/9/2013)
The Human Condition (11/16/2013)
The Mesenger (episode) (11/23/2013)
End Game (Megaforce) (11/30/2013)
Halloween Special (10/26/2013)
The Robo Knight Before Christmas (Christmas Special) (12/7/2013)
Super Megaforce (2014) Edit
TBA
Ad blocker interference detected!
Wikia is a free-to-use site that makes money from advertising. We have a modified experience for viewers using ad blockers

Wikia is not accessible if you've made further modifications. Remove the custom ad blocker rule(s) and the page will load as expected.