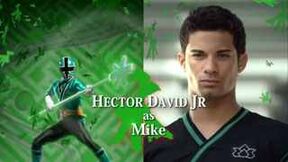 Hector David, Jr (b. July 10, 1989 in Nuevo Laredo, Tamaulipas, Mexico) is a Mexican-American actor.
Hector was born in Tamaulipas, Mexico. He first appeared in the 2010 film Percy Jackson and the Olympians: The Lightning Thief, in which he had a small role, then he appeared in the Direct-to-DVD film #1 Cheerleading Champ and now, currently playing the role of Mike , the Green Samurai Ranger, in the new entry of the Power Rangers franchise- Power Rangers Super Samurai; and its 2011 precursor Power Rangers Samurai.
Ad blocker interference detected!
Wikia is a free-to-use site that makes money from advertising. We have a modified experience for viewers using ad blockers

Wikia is not accessible if you've made further modifications. Remove the custom ad blocker rule(s) and the page will load as expected.